Brief Identification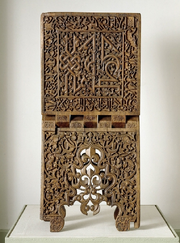 The image above is an artifact, a Qur'an stand, dated to the mid-13th century CE from Konya, Turkey. The folding lecterns, most of which were made of wood, served throughout the Islamic world as supports for large Qur'an books, used during recitations. They were among the most valuable furnishings of every mosque. This artifact is now held at the Museum of Islamic Art at the Pergamon Museum in Berlin, Germany [Hagedorn 2015].
Technical Evaluation
Section heading
Edit
Write the second section of your page here.